Fudgy Honey Chocolate Sauce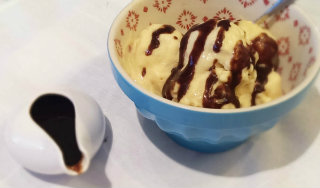 Makes a mouth watering fudgy, velvety sauce which is great on Ice Cream, fruit or sponge pudding.
Ingredients:
2 tbsp Butter
2 tbsp Cocoa
¼ cup Water
Salt
½ cup Mossop's Field & Tawari Honey
½ tsp Vanilla Essence
2 tbsp Butter
Method:
In a small saucepan, melt 2 tbsp butter, add cocoa until smooth.
Add water, honey, salt and gradually increase heat until sauce is smooth and slightly thicker.
Remove from heat, add remaining butter and vanilla essence. Serve warm or cold.