Honey Peanut Brownies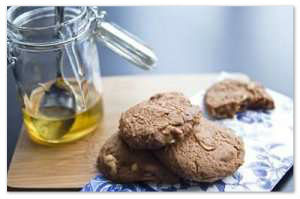 Ingredients:
½ cup Butter
½ cup Mossop's Liquid Honey (Rewarewa or Field & Tawari)
1 egg
1 ½ cups Flour
1 tsp Baking Powder
2 dsp Cocoa
1 cup Peanuts
Method:
Cream butter and honey well.
Add egg and beat well.
Add sifted flour, Baking Powder, cocoa. Mix well.
Add peanuts and combine.
Put in spoonfuls on oven tray and bake at 150oC for approx. 20 minutes.
Makes 20 – 25 cookies. Be careful not to overcook.