Mossop's Manuka Honey Skin Care Products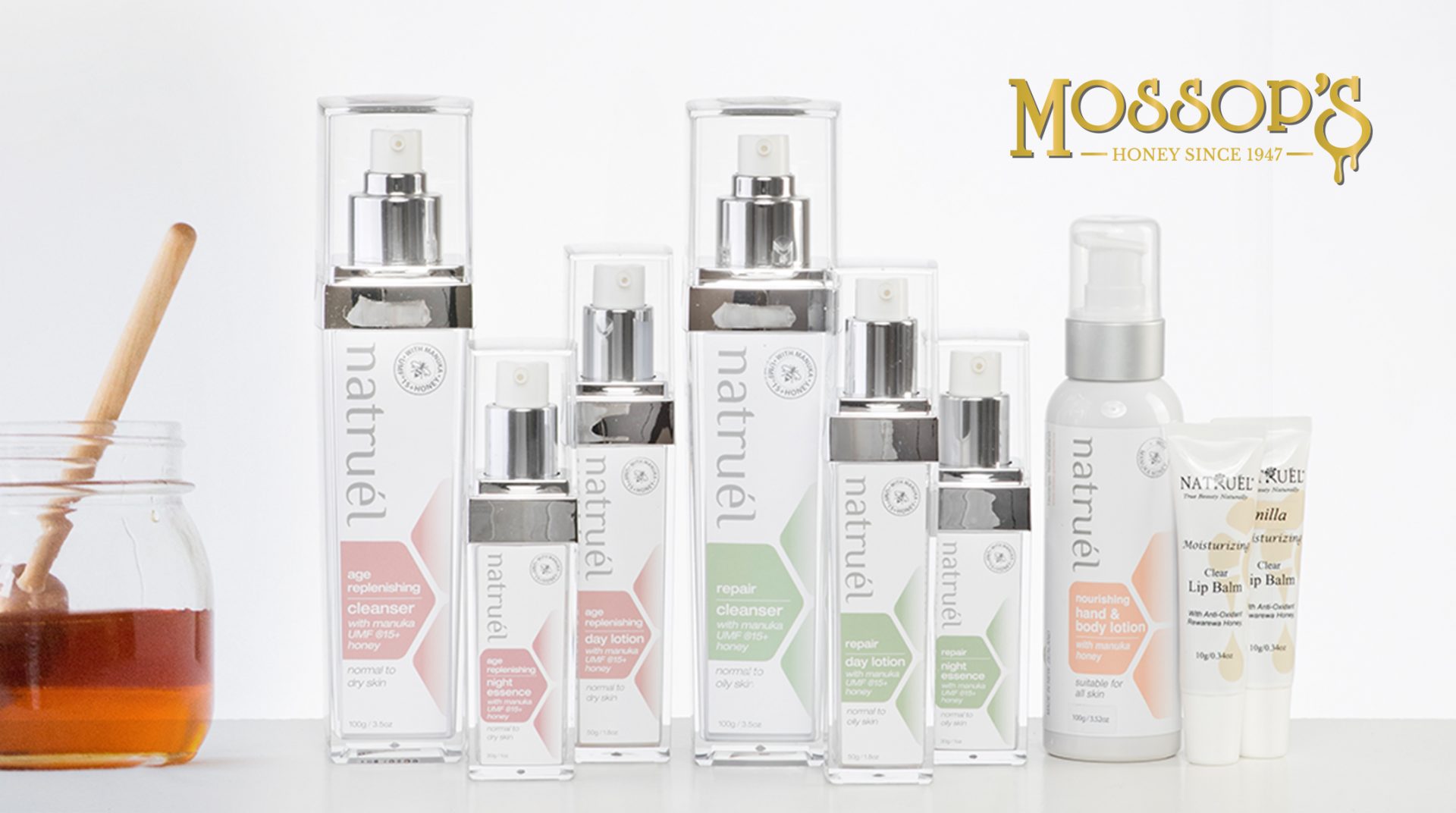 Mossop's is a 100% New Zealand owned and family operated business that is recognised around the world for crafting some of the finest New Zealand honey for over 70 years.
Now, thanks to some busy bees, Mossop's is also known for its incredible range of Manuka honey health and beauty products — the Mossop's Natruél Skincare range.
The Health Benefits of Manuka Honey in a Unique Skin Care Range
The Natruél Skincare range was created by Mossop's in 2007 and harnesses the incredibly unique and natural health benefits of Manuka honey.
The Natruél Skincare range from Mossop's New Zealand Honey is an effective, chemical-free, natural alternative to other health and skincare products on the market.
How Did Natruél Skincare Come to Be?
The Natruél Skincare range began to flicker to life in 2002 when Wendy Mossop's 83-year-old mother used Mossop's UMF® Manuka honey to heal a wound from a skin cancer operation on her ankle. When the wound fully healed the area around the affected area was soft, supple, and smooth.
This incredible result opened Wendy's eyes to the amazing health benefits of Manuka honey — not only internally but also externally. Wendy (General Manager at Mossop's) and the rest of the team decided that Mossop's need to develop a chemical-free, natural, and effective skincare range using New Zealand UMF® Manuka honey as the main ingredient.
Finally, in November 2007, Wendy's dream was realised and the Natruél Skincare range was launched for people around the world to enjoy.
"Having very sensitive skin, I have had no reaction to the Anti-Ageing Day Lotion. I love the smell and my husband loves it too! My beauty therapist and husband have both complimented me on how 'well' my skin is looking after a month of using Natruél.
I feel my skin looks younger and feels softer."
Deborah
Buy UMF® 15+ Age Replenishing Day Lotion
What Natural Ingredients Are Used in the Natruél Skincare Range?
The dictionary meaning of the word 'natural' is something that exists in, or is formed by, nature. Generally, this is what you would think of when you hear the word 'natural' — something that is healthy and safe to use. Unfortunately, some corporate definitions of 'natural' isn't always the same as ours.
Here at Mossop's we take the meaning of the word 'natural' very seriously and only seek the best and most natural ingredients for use in our Natruél Skincare range.
We dedicate ourselves to providing only a truly 100% natural skin care range and we try to source as many ingredients as we can from our beautiful country — New Zealand.
There are absolutely no nasties in any of our products.
We don't want to hide anything from you so here is a list of our ingredients and why we have chosen to use them in Natruél: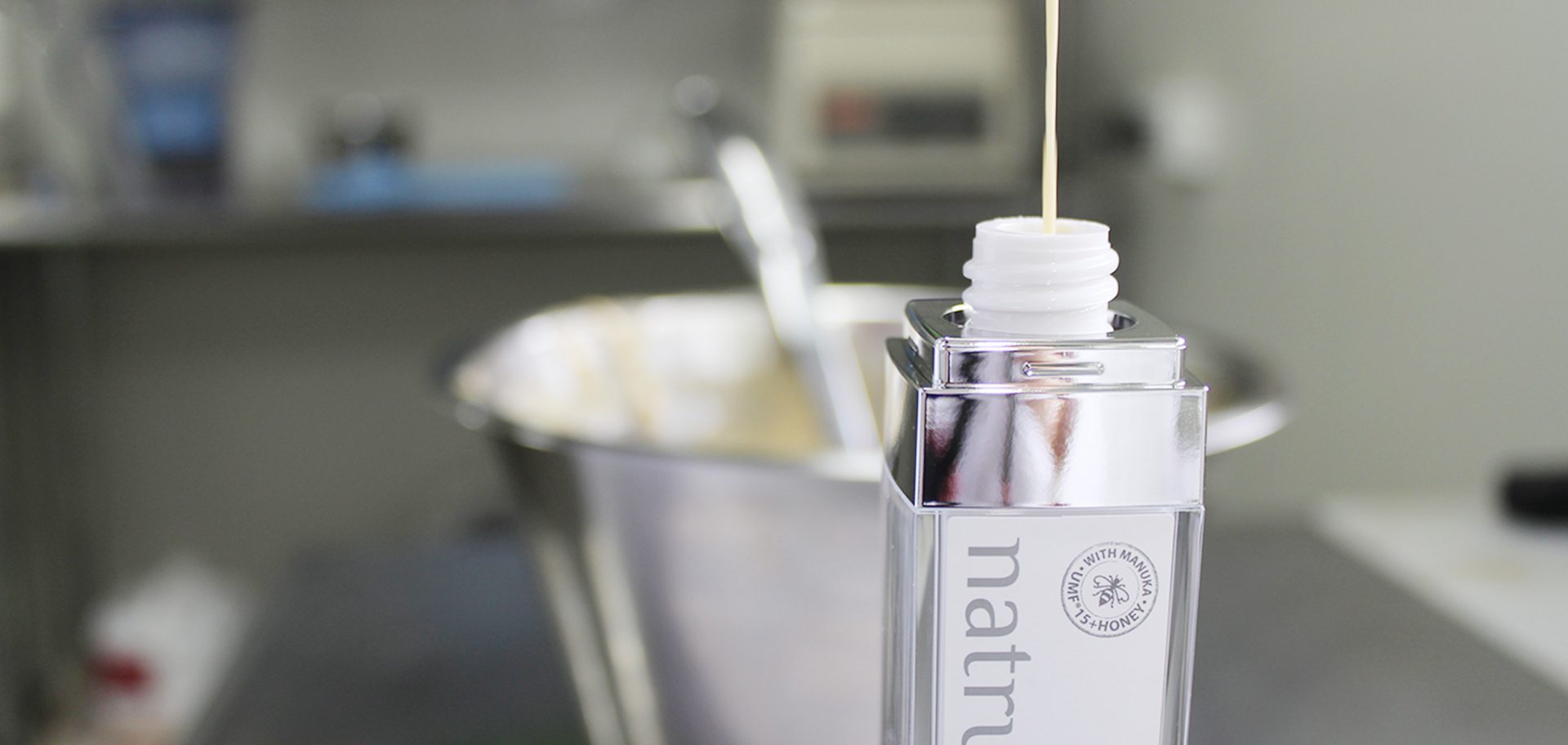 New Zealand UMF® Manuka Honey Skin Care
We love honey and Manuka UMF® Honey is the main reason Natruél Skincare exists today.
Honey has the perfect nutritional profile including carbohydrates, proteins, enzymes, amino acids, vitamins, minerals, organic acids, flavonoids, phenolic compounds and other trace elements.
Due to its unique chemical composition and the large variety of amino acids and vitamins inherent in quality Manuka honey, it is ideal for nourishing skin tissue. UMF® Manuka honey also helps to lift dirt and debris, leaving your skin soft and subtle.
Mossop's New Zealand Honey use UMF® 10+ and UMF® 15+ in the Natruél Skincare range.
Find out more about New Zealand UMF® Manuka honey here.
Aqua (Water)
Up to 60% of a human body is made up of water and the skin is made up of 64% water. We all know water is good for the body and needed for it to function. Water also helps mix all our ingredients together and reduces the 'stickiness' of the honey.
New Zealand Rewarewa Honey in Cosmetics
Like many other New Zealand honeys, rewarewa honey contains a large variety of naturally-occurring vitamins and minerals that help to nourish the skin. Dark-coloured honeys have also been reported to typically contain more antioxidants and mineral content than lighter honeys.
Antioxidants are known to fight free radicals internally and believed to also help fight them externally. It is believed that applying antioxidants to the skin will help reduce the sign of ageing.
Find out more about our beautiful New Zealand Rewarewa honey, here.
New Zealand Beeswax for Skin Care
The cosmetics industry loves beeswax as it is not only natural and non-toxic, it provides benefits to the skin and to various types of formulas. Beeswax is a natural thickening agent which means that it can help thicken creams to make them easier to use and more spreadable on the skin.
Beeswax is:
Protective. When applied to the skin, beeswax forms a protective barrier that helps protect it from the harsh environment, while also holding in moisture and reducing dryness. This is one of the reasons beeswax is often used in lip balms.
Breathable. Unlike ingredients made from petroleum, however, beeswax doesn't suffocate the skin, and won't clog pores.
Antibacterial. Like honey, beeswax has antibacterial properties, helping keep skin clean and reducing the risks of contamination in the formula itself. In fact, a 2005 study found that a honey/beeswax mixture inhibited the growth of bacteria and fungus, making it a potential treatment for diaper rash and other bacterial skin conditions.
Humectant. Some ingredients attract water, and beeswax is one of them. When you put it on, you attract water molecules, helping to keep skin hydrated over time.
Vitamin A. A good source of this vitamin, beeswax helps support cell turnover and reconstruction.
To find out more about the natural ingredients we use in the Natruél Skincare range, click here and scroll to the bottom of the page.
"I have had a lot of trouble finding a lip balm which works for chapped lips. Within a few hours of using some of a friend's Natruél Lip Balm, my lips were smooth and no longer chapped. I went and bought my own tube the next day and it's been great!"
Jaime-Anne, Chemistry Technician
Buy Natruél Rewarewa Moisturising Lip Balm
Mossop's Natural, Honey-Based, & Chemical-Free Cosmetics
Natruel's mission is to provide 100% natural honey-based skincare products to New Zealand and around the world. Mossop's Natruél Skincare range is one of the few truly natural health and beauty products on the market today and it's all thanks to the incredibly unique properties inherent in natural New Zealand UMF® Manuka honey.
By combining the words 'true' and 'natural' the Natruél range was born.
Discover Mossop's natural and chemical-free range of cosmetics today! Visit the Mossop's Shoppe in Tauriko or find a store near you.
"I have used the skin repair night essence for the last two weeks and I have noticed my face has now got "suppleness", it is easier to apply foundation and my skin tone looks better than before."
Miyuki
Buy UMF® Manuka Honey Repair Night Essence
Natruél Skincare Quick Links:
UMF® Manuka Honey Nourishing Hand & Body Lotion
UMF® Manuka Honey Age Replenishing Day Lotion
Rewarewa Honey Moisturising Lip Balm